Top 10 Durian Mooncakes in Singapore
The Mid-Autumn Festival has been synonymous with one type of confectionary for many years now – mooncakes. The festival is even nicknamed the 'mooncake festival' after the treat which finds its way into every house and mouth in Singapore. Although it was traditionally made from lotus seed paste, modern takes on this traditional meal have more fanciful flavours.
One of these more fanciful flavours is the Durian flavoured mooncake which is a rare special. Most durian lovers want to have durian in all the forms it comes whether as the fruit, ice cream or even mooncakes. For those looking to try out durian mooncakes for the mid-autumn festival this year, here is a list of some of the best durian mooncakes you can get in Singapore.
Bakerzin
One of the household names in the Singaporean confectionary business, Bakerzin never fail to deliver on their range of mooncakes for the mid-autumn festivals. Made from premium ingredients, Bakerzin mooncakes focus on unique, local flavours native to Singapore. Their mooncakes are popular in Singapore for the artistic flair with which they give a modern twist to traditional mooncakes.
Durian lovers will be thrilled by the Splendour collection, a collection of emerald goodies made from 100% pure Mao Shan Wang. These tasty delights are made with only the best quality durians for your consumption. They also make for excellent gift choices for friends, family and business associates.
Address: Several Outlets all over Singapore
Phone: +65 6455 8885
Website: https://www.bakerzin.com
Grand Hyatt Singapore
Grand Hyatt sets out to impress eager customers every year with a fresh take on traditional mooncake flavours. Among some of their top-rated mooncakes on offer are the Teh Tarik with Chocolate Truffle Snow-skin Mooncake and the Green Apple and Basil with Trigona Honey Truffle.
Durian lovers may be more interested in the D24 Durian snow-ski Mooncake which is also one of the customer favourites at Grand Hyatt. The great part is that you can select up to 8 different flavours for every box that you order – you do not have to miss out on any of their tasty mooncakes.
Address: 10 Scotts Road, Singapore 228211
Phone: +65 68875492
Website: http://bit.ly/grandhyattmooncakes
Pan Pacific Singapore
Pan Pacific Singapore offers some of the best Snow-skin Mooncakes made locally from Durian and other tropical fruits. Durian enthusiasts will enjoy both their Mao Shan Wang Durian and Durian Gula Melaka both available in baby blue shade.
Other prominent flavours of mooncakes available at Pan Pacific include Cempedak, Lychee and Soursop. You can also get healthier mooncake variants like the Charcoal Melon Seed with Sesame Paste and the Low Sugar White Lotus Seed with Macadamia.
Address: Level 1 Mooncake Booth and Level 3 Hai Tien Lo
Phone: +65 9009 5936
Website: http://www.pacificmarketplace.sg
The BakerHaus
While Durian mooncakes are not the highlight at The BakerHaus, Durian lovers who go there in search of durian flavoured mooncakes will not be disappointed by the Mushanking Durian. Its rich flavour and taste is a culinary delight for every customer looking for a treat.
Their signature mooncake is the Cream Cheese Snow-skin with Strawberry Lava, Blueberry Lava and Mango Lava and is a favourite with both adults and children alike. They also offer customization for corporate clients where they can have their logo emblazoned on the traditional mooncakes to make the perfect corporate gift.
Website: https://www.bakerhaus.com
Xin Cuisine @ Holiday Inn Singapore Atrium
As a more health-conscious restaurant, Xin Cuisine has an entire class of low-sugar mooncakes for their loyal customer base. These treats make an excellent gift for the elderly ones around. Although they have a large range of mooncakes to choose from, Durian lovers will definitely want to try out the Peranakan Durian Snow-skin Mooncake. The luxurious treat is made by encasing the durian filling with a purplish blue soft skin case that is naturally coloured using the Blue Pea flower
Other mooncakes to try out include the Low Sugar White Lotus Paste with Hazelnut Crunch Mooncake and the Low Sugar White Lotus Paste with Orange Praline Mooncake
Address: 371 Outram Road, Singapore 169075
Phone: +65 6731 7173
Website: https://holidayinfestive.oodle.me
Hong Kong MX
Hong Kong MX's mooncakes are so well loved that they are sold out almost immediately they hit the shelves. Made by some of the best mooncake craftsmen, they are a treat for the mid-autumn. They have recently unveiled the Musan King Durian Snowy Gift Box and the Snowy mini 4 Durian which is good news for durian mooncake lovers.
The mooncake skin is made from naturally ripened Musan King Durians and Hokkaido Milk and combines the fragrance of durian with the smooth texture a true delicacy. Other mooncakes to look out for include their signature Lava Custard Mooncake which sells out very quickly.
Address: Available at Takashimaya, NEX, Causeway Point, Plaza Singapura, Vivocity, Change Alley, Westgate, Tampines Mall and Compass One.
Phone: +65 6862 2166
Website: http://sgmeixin.com
Carlton Hotel Singapore
Carlton Hotel releases a range of mouth-watering mooncakes every year and this year is no different. Lovers of Durian mooncakes will definitely want to try out the Mini 'Mao Wan Shang' Durian Snow-skin Mooncakes which is one of their most popular flavours.
Other interesting mooncake flavours to look out for are their signature Mini Walnut Moontarts with Egg Yolk and Mini Tuxedo Snow-skin Mooncakes which combines the Tuxedo's chocolate cake and crunchy balls with a serving of fluffy light cream
Address: 76 Bras Basah Rd, Singapore 189558
Phone: +65 6349 1292
Website: https://www.signatures.carlton.hotel.sg/
Madame Fam @ JW Marriott Singapore
Madame Fam's executive chef Mike Tan and his team always seem to come up with a new delight for mooncake fans every year. Hidden among their Snow-skin collection is something for all durian lovers – Creamy Durian Paste with Durian Flesh. This elegant masterpiece balances the sweetness of mooncakes with the natural bitterness of durians to give a unique taste that lingers long in the memory of customers.
They also have other snow-skin mooncakes like the Champagne Chocolate and the Matcha Paste. Their signature mooncake is the Pur Er Tea which is a treat worth having.
Address: The NCO Club, 32 Beach Road, Singapore 189764
Phone: +65 6818 1921
Website: https://www.madamefam.sg/
Cat & The Fiddle
When Celebrity Pastry Chef Daniel Tay (Founder of Bakerzin) puts his signature on a confectionary, you can trust it to be a mouth-watering special. For the mid-autumn festivals, Cat & The Fiddle always have a series of special mooncake for their customers' delight
Lovers of everything durian should be expectant to try out their Mao Shan Wang Durian Snow-skin Mooncake which is named 'The King of The Moon'. This delicacy is made from real Mao Shan Wang pulp surrounding tasty cream cheese in a white chocolate shell.
Address:  6 Eu Tong Sen St, 01-41 The Central @ Clarke Quay Singapore 059817
Phone: +65 6287 0077
Website: https://www.catandthefiddle.com/
Emicakes
Emicakes pride themselves in being Singapore's No. 1 durian cake makers. They have a range of durian cakes you can choose from and you can trust them to deliver on mooncakes too. They have some of the best D24 Durian Snow-Skin Mooncakes available. In fact, during the mid-autumn festivals, the D24 Durian Snow-skin Mooncakes are their best sellers.
They also have other mooncake flavours for those interested. Although for durian mooncake lovers, it is advisable to order early to prevent disappointment.
Address: 5 Kaki Bukit Road 1 05-03 Eunos Technolink Singapore 415936
Phone: +65 6749 6782
Website: https://www.emicakes.com.sg/
Get Your Durians from Duriandelivery.com.sg today!
Duriandelivery.com.sg delivers durians to you on the same day, fresh. 100% Quality Guaranteed or Money Back.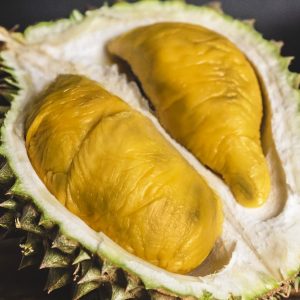 Order Durians Now
[/col]