What to Expect From the Hand-Picked Royal MSW?
Because you're purchasing online, you might be wondering what to expect from this delightful durian.
The Story Behind the Royal MSW
The variation of this species is also known as the Wang Zhong Wang (WZW) or King of Kings (KOKs). This breed of durian is probably one of the most premium durians you can find. The Royal is only plucked from the oldest trees.
These trees have wide boughs and are cultivated exclusively in higher altitude regions and in soil that is extremely fertile.
At our plantations, each of these trees are treated to premium fertilizers different from the norm, and the durians are secured and tracked even as they are growing, ensuring that the durian reaches its full maturity and complexity in flavour.
That is just the first part of the process. A further quality control process for the Royal is that we hand-pick them from the group of durians that are plucked, giving you only the best of the best.
The Taste
The Royal MSW has a deep, rich complex flavour that is heaven to durian lovers. The older trees are capable of producing the deeper flavours that make biting into the flesh a fantastic, life-changing experience.
The flesh of the Royal MSW has been described as extremely rich. Its not watery or soft, and its flesh is rather thick.
What you get in the box
400g of Durian, with seeds, De-husked.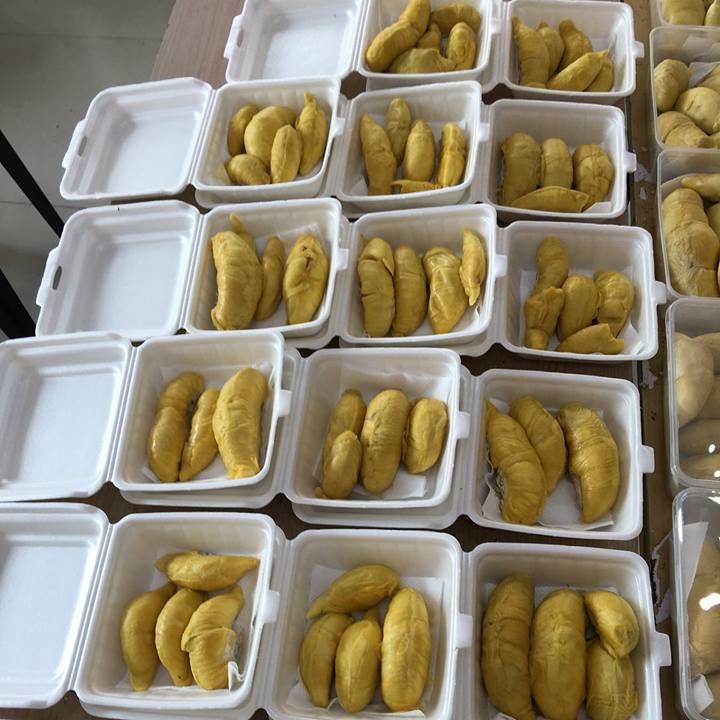 Expertly Picked, Delivered Fresh
When your purchase your premium Royal MSW, you can be assured that your durians have just come off the plantation, and in no more than 6-12 hours, they are in your hands, ready to eat and perfectly delicious.
Each box of durians is air-sealed. We pack them extremely tightly to make sure that no moisture is lost to the air during the delivery process.
Delivered in Air-Conditioned Vehicles
Even with all the excessive precautions, your durians can still be damaged during the delivery. That's why we only use air-conditioned vehicles to send your durians to you.
FAQ
Q: I have had bad experience ordering elsewhere, getting water durians when they arrive. Will I expect the same from DurianDelivery.com.sg?
A: Absolutely not! Our durians are only delivered fresh from the farm, and all our durian packages come with a premium water-absorbing condiment pack that prevents just this problem. Furthermore, we deliver durians within 1-2 hours in air-conditioned vehicles, ensuring the perfect freshness and condition of your prized selection.
Q: Your durians seem pricey! How are they compared to the per kg prices?
A: Our durians are actually excellent value for money! That is because they all come dehusked, and are measured in 400g packages. The typical durians average only 230g-280g, depending on type, per KG, which is why you see a higher price on our website. Our durians are also professionally packed to be delivered, being both air-sealed and coming with a water-absorbing condiment pack.